More than 80+ millions Indians suffer from a condition related to the spine, muscle and nervous system that affects their movement each year. These conditions are having a devastating impact on Indians' health and quality of life.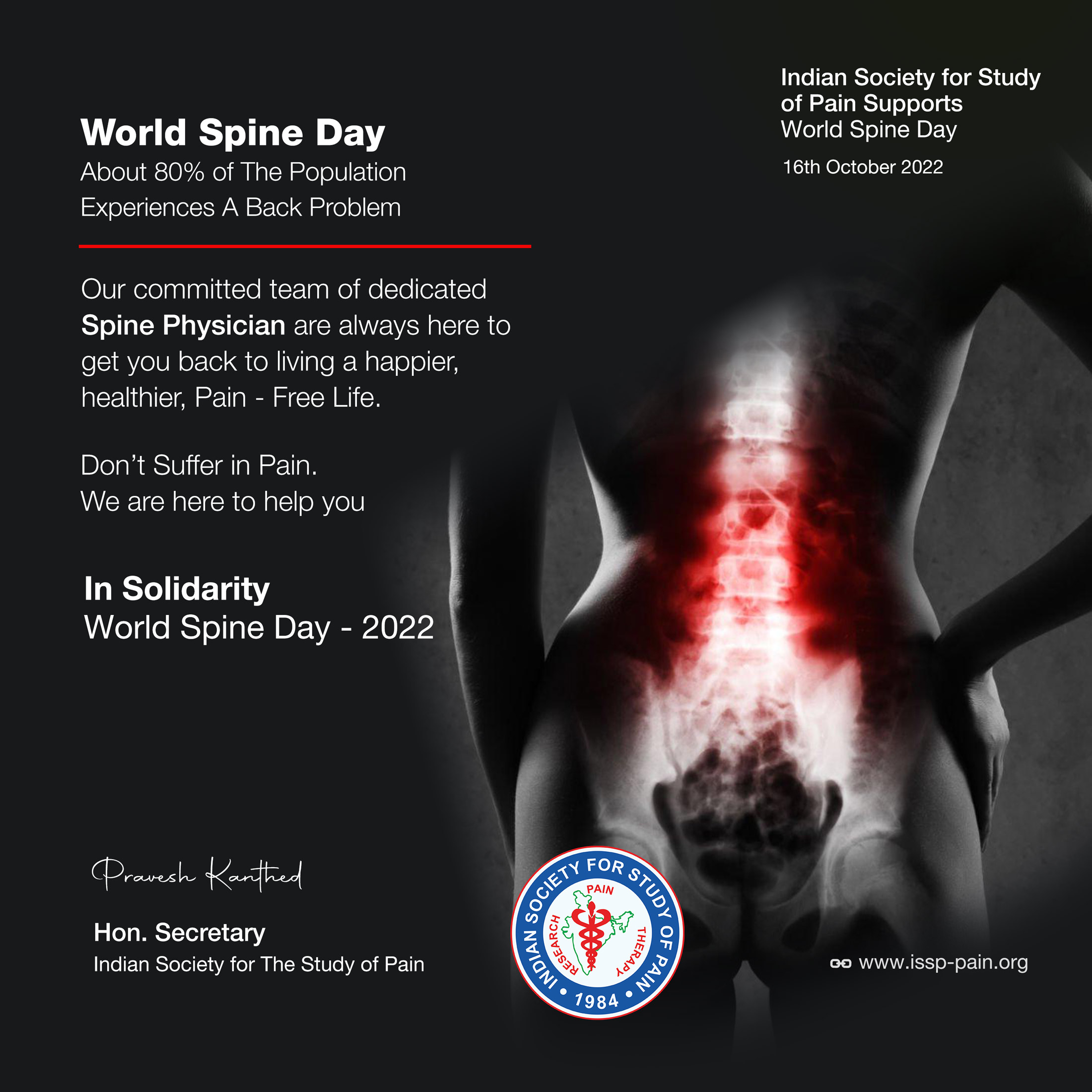 World Spine Day is celebrated on October 16 every year. It highlights the burden of spinal pain and disability around the world. With health professionals including Spine & Pain Physicians, exercise and rehabilitation experts, public health advocates, schoolchildren and patients all taking part, World Spine Day is celebrated everywhere.
Practically everyone on the planet knows back pain, as it's the leading worldwide cause of disability. The spine endures a lot of wear and tear over the course of time, so it is very important to know how to take care of your back and prevent serious pain and disability.
The Treatment Challenge
India is the world capital of spine pain patients. Due to such a large population, even after 75 years of independence, we have not been able to provide spine pain treatment information to the patients properly. As a responsible pain society, it is our responsibility to provide proper spine pain treatment to the people of our country.
Today, in all the developed countries of the world, only 1 in 10 patients are undergoing spine surgery, but in our country this figure is not respectable.  We can treat any type of spinal pain with the help of Medication, Physiotherapy and Minimally Invasive Spine & Pain Interventions (MIPSI), but  due to lack of knowledge about these modalities, the patients directly undergoes surgery.
As a result, the disease which could have been treated without surgery is now treated by actual surgery, which have its own consequences.
Interventional Pain Management can prove to be effective in managing many spinal related health conditions such as Slip disc, Sciatica, PIVD's, Failed Back Surgery Syndrome, Spondylolisthesis/Lysis, Canal Stenosis, Facetogenic Pain, Discogenic Pain, Sacro-iliac joint pain & axial back pain due to various other causes.
To know more about spinal pain, consult a Spine & Pain Physician near you. Our team of Pain Physicians are there to help you deal with your spine pain non surgically with Minimally Invasive Spine & Pain Interventions (MIPSI).
Interventional Spine and Pain Physician Central India, Indore
Secretary: ISSP
Founder Director – Meru Spine and Pain Centre, Indore, India